What You Should Do When a Crown Falls Off of Your Tooth
A few years ago, I was hanging out with one of my friends.  He was biting into a sandwich and his crown came out of his mouth stuck in a piece of bread.  Being a big fan of dentists, I went to the dentist with him that same day and watched as the dentist cemented the crown back into his mouth.
Unfortunately, not everyone can make it to the dentist right after their crown falls off.
Hopefully, if you do end up getting a crown in your life, it won't fall off.  However, if it does, here's what you should do.
What to do When a Crown Comes off of Your Tooth
First of all, get the crown out of your mouth.  You don't want to risk swallowing it or accidentally breathing it in.  If you swallow it, it will probably pass without a problem, but after it's been through your digestive system you probably don't want it back in your mouth!  If you end up accidentally breathing it in, it could become infected.
Call your dentist and schedule an appointment.  Let the office staff know that your crown came off.  Give them as much details as you can.  They should try to fit you in as soon as possible (within a few days at most.)
Next, examine the crown and look in your mouth.  If your tooth fractured and is inside the crown, you will have to see your dentist before anything can be done.  If the crown looks hollow or if it is not hollow but there is a small metal rod coming out of it (about the width of a paper clip), then you should be able to temporarily cement it back into your mouth before seeing a dentist to get it permanently cemented.  Before proceeding, check with your dentist to see if it will be alright if you use temporary cement from the drugstore to temporarily put your crown back on.
Take a toothbrush and gently clean off the crown and the tooth inside your mouth where the crown was located.  After cleaning, make sure that the crown and the tooth are as dry as you can get them.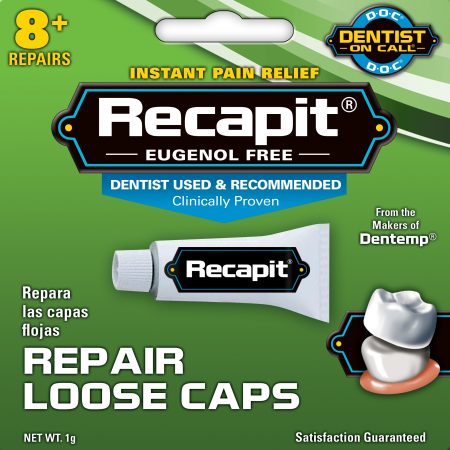 Next,  you will need to have some temporary crown cement which you can purchase at most any pharmacy.  A popular brand name of this cement is Recapit Temporary Crown Cement, which is a temporary glue that will hold your crown onto its underlying tooth structure until you can get in to see a dentist.
Remember to be careful and not chew too hard on the crown that you have re-cemented.  Don't chew sticky foods like caramel or taffy.  The temporary cement is much weaker than the permanent cement that the dentist initially used.
Update: I have written an article that talks about the different temporary crown cements, which ones have the best reviews, and also gives some tips on the best way to re-cement your crown. You can read it at Which Temporary Crown Cement is the Best?
See Your Dentist To Permanently Cement the Loose Crown
You need to make sure that you go to your dentist so he or she can permanently cement your crown back to its underlying tooth structure.  The crown is still slightly loose, temporary cement really is temporary.
Also, after the crown came off, the underlying tooth structure was exposed to the bacteria in your mouth.  When you cemented the tooth back on, you cemented bacteria between your tooth and the crown.  Your dentist will be able to properly disinfect the area before permanently re-cementing your crown.
Conclusion
If your crown does fall off, remember that you need to get to your dentist as soon as possible.  Don't put it back on and then neglect going to visit your dentist.  You could infect the tooth and in the worst case scenario you may need to have the tooth extracted a few years down the line.
If your temporary crown comes off, you can re-cement it according to the above procedure.  Your dentist will probably still have you come in for your originally scheduled appointment to have your permanent crown cemented.
Let me know if you have any questions.  Thanks for reading!