I got an email earlier this week from a reader named Trish.  She asked the following:
"What will happen if the filling comes out of your tooth, and you don't have it replaced, other than pain trying to eat?"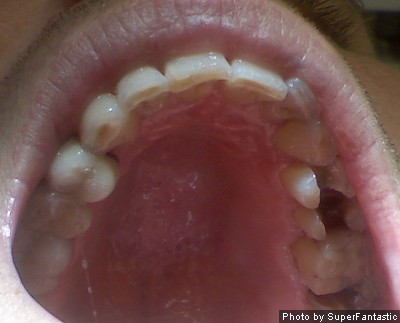 Before I answer that question, let's take a look at why fillings fall out.  A  filling normally doesn't fall out of your tooth just for fun – it usually has a pretty good reason!  Fillings can come out because of decay around the filling, because the filling cracked, or because it wasn't put in properly.
Basically, if your filling fell out, chances are that there was something wrong and you should get your tooth looked at by a dentist.
If the filling came out and it was recently put in, your dentist might give you a break and put a new filling in.  If it was an old filling and it just came out, you may have a cavity under the filling.
Regardless of why the filling fell out, it's important to replace it.  To answer Trish's question, here's a list of eight things that could happen to your tooth if your filling fell out and you don't have it replaced.
Eight Things that Can Happen If You Don't Replace a Lost Filling
1 – Sensitivity
When you lose a filling, it exposes the sensitive dentin (the inner hard layer of your tooth) to your mouth.  Depending on how close the filling was to the pulp of your tooth, it could hurt all the time or only when you eat, as Trish mentioned above.  Either way, the pain means that there's something wrong that needs to get taken care of!
Not sure what dentin and pulp are?  Check out my article on the anatomy of a tooth to find out!
2 – Root Canal
The pulp inside of your tooth could get irritated, causing pulpitis.  The textbook Clinical Endodontics by Leif Tronstad states, "Factors leading to an infectious pulpitis are conditions that contribute to the exposure of the dentin and dentinal tubules to the oral environment."
3 – It's Harder to Clean
Teeth are hard to clean when they have a big gaping hole in them.  Even if you can get the toothbrush bristles down to the bottom of the hole where the filling was, chances are that you won't be able to easily clean out the entire hole where the filling was located.
4 – Bad Breath
When you eat food, the natural contours of the teeth allow you to efficiently chew and grind the food into little, easily-digested pieces.  When you have a hole in your tooth and you chew, you push the food down into the hole.  Since teeth with lost fillings are more difficult to clean (see #3), that food could be sitting in there for quite some time and cause your breath to be less than pleasant to those around you!  Even if you do have bad breath, people probably aren't going to tell you.
5 – Tooth Decay
Because the tooth is harder to clean and you're buyonlinegenericmeds.com grinding food into it every time you eat, it's much easier for you to get a cavity in that tooth.  If the reason that you lost the filling was because you had a cavity under it, the cavity will probably get bigger the longer treatment is put off.
6 – The Tooth Could Crack or Break
If the tooth goes for a long time with a lost filling, it may develop a cavity, which can subsequently weaken the tooth structure and cause the tooth to break or crack.  Without the filling, the tooth will also experience different forces that end up causing it to break.
7 – Difficulty Repairing Tooth With a White Filling
When you lose a filling and expose the dentin to your saliva, the dentin reacts by trying to fight off the bacteria.  The little tubules inside the dentin eventually close off to try to protect the nerve of the tooth.  When this happens, it is known as sclerotic dentin.  A problem with sclerotic dentin is that it is much harder to get a white filling to bond to sclerotic dentin than it is to get a white filling to bond to regular dentin.
8 – The Tooth May Need to Be Extracted
If you wait too long, the tooth may break and become so badly decayed that it is what dentists like to call unrestorable.  That means that just like Humpty Dumpty, nobody will be able to put that tooth back together again, and it will have to come out.
What Are Your Options When a Filling Falls Out?
I assume that Trish wants to know what would happen because she either has a fear of the dentist or can't afford to get a new filling right now.
If fear is keeping you away from the dentist, take a look at this article about reasons people are scared of the dentist, and then figure out your fear and try to overcome it.  There is help available online at sites like Dental Fear Central.
If cost is keeping you away from the dentist, then you can call your dentist and ask how much a temporary filling would cost.  A temporary filling would allow you to get the tooth filled fairly inexpensively until you can save up for a permanent filling.  An even more temporary solution is to try some temporary filling materials until you can see your dentist.  I talk about a few different brands in my article about what you should do when you lose a filling from your tooth.
Conclusion
If you have a filling come out, it's necessary to get the filling replaced as soon as possible to ensure the long-term health of your tooth.  If you can't afford it, there are temporary solutions available that you dentist may discuss with you.
Do you have any questions, comments, or concerns about losing a filling from your tooth?  Go ahead and leave a comment in the comments section below and I'll get back to you.  Thanks for reading!