Did you know that over four million dental injections are given every year in the United States?  The failure rate is estimated to be anywhere from 5 to 15%.  that means that there are anywhere from 200,000 to 600,000 dental injections that don't get the patient numb.  That means that people get poked by their dentist with a needle and don't end up getting numb about every minute.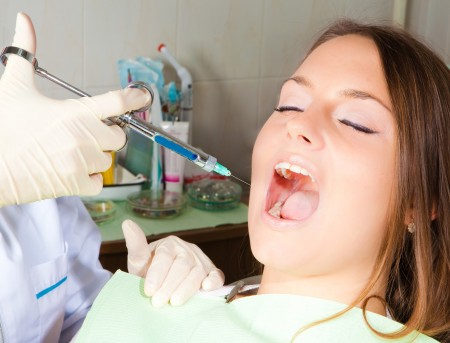 It's no wonder that a lot of people come into my dental school and tell me something similar to, "My dentist has trouble getting me numb –  I usually need a lot of novocaine in order to get numb."  As a side note, we normally use lidocaine, not novocaine as many patients believe.
So why do so many dental anesthetic injections not work – why can't your dentist get you numb?
Seven Reasons Why Your Dentist Can't Get You Numb
An article published in the January 1991 issue of the Journal of the American Dental Association sheds some insight into this issue by giving five reasons why dental injections sometimes don't work.  I also found a couple of others and added them onto the list below.
1 – Anatomic Variations
Everyone is different.  Some people's jaw flares out wider than others, making it hard to visualize where that person's nerve is.  Some people have a longer jaw or extra muscle and/or fat around their jaw. In patients that are missing lots of teeth in the back of their mouth, it's harder to visualize where the nerve is.  Also, young patients can have different anatomy depending on their stage of growth, making it hard to get the anesthetic in the right spot.
2 – Technical Errors by the Dentist
Dentists aren't perfect!  Sometimes we can put the needle in the wrong place and give the anesthetic too low, too high, or too far to the side.  Also, we might not put the needle in deep enough, or we may accdentally deposit the anesthetic in a blood vessel, which is why your heart can beat fast when getting a dental injection.
3 – Anxious Patients
Some anxious patients may think that they aren't numb and jerk away in fear when we start to drill.  In cases like this, I usually tap around their gums on the numb side and then on the side that isn't numb to let them feel the difference and realize that they really are numb.
4 – Inflammation or Infection
When people have swelling in an area, it can be harder to get them numb.  One theory says that the acidic tissue makes it harder for the anesthetic to take effect.  Antoher theory says that since the patient has been in pain for so long, use tramadol pain medicine, they have an increased sensitivity to pain which makes it harder for them to get numb.
5 – Defective Anesthetic Solutions
I haven't had experience with this one, since my dental school has a pretty good quality control program to ensure that the dental anesthetic stays potent.  However, sometimes a dentist may use dental anesthetic that has expired or was improperly stored or manufactured.  This made me realize that I should always go with a respected brand name of dental anesthetic and not get the cheaper stuff to save money.  There's no point in cutting corners if it will inconvenience my patients.
6 – Having Red Hair
People with red hair have more difficulty succumbing to the numbing effects of dental anesthetic.  They also have a greater fear of the dentist.
This article published in the July 2009 Journal of the American Dental Association states, "People with naturally red hair are resistant to subcutaneous local anesthetics and, therefore, may experience increased anxiety regarding dental care."
7 – Having Joint Hypermobility
Those who suffer from Ehlers-Danlos Syndrome can be insensitive to local anesthetics used in dentistry.  You can check out this article for more information on local anesthetic failure in those with joint hypermobility.
Conclusion
If your dentist can't get you numb, more than likely there is a specific reason.  In my experience, I've found that there are many people who have slightly different anatomy in their jaws which makes it harder to position the needle so that the anesthetic gets deposited where their nerve is located.
Do you have any questions, questions, comments, or concerns about getting numb at the dentist?  If so, feel free to go ahead and leave a comment below.  Thanks for reading!