I remember vividly a lecture that I had last year in one of my pediatric dentistry classes.  My professor told us a story about how she went down to one of the local piercing parlors and asked if she could take pictures of a tongue piercing.  They let her take some pictures and she showed them to our class.
She commented that if parents actually knew what happens when their kid gets their tongue pierced, there would be a lot less pierced tongues.
I debated about whether or not I should put an image of an actual tongue piercing in this article, but I think it may be too graphic for some people.  If you'd like to see what a tongue looks like as it's getting pierced with a needle, you can see a photo with an explanation by clicking here.
Keep in mind that there are many risks with piercing your tongue, so I would advise against getting your tongue pierced.  In this article, I'll simply focus on the process of getting your tongue pierced.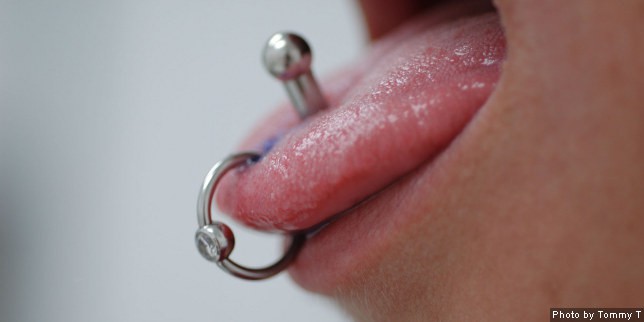 The Tongue Piercing Procedure
First of all, the person piercing your tongue will use a marker to mark the spot on the taste-bud side of the tongue where the piercing will be.  If you look closely at the photo above, you'll see a dark blue mark where the ring enters the tongue.
Next, the piercer will hold onto your tongue with some sort of a clamp so that it doesn't move when it is pierced.  If the tongue moves and the needle goes through the wrong part, it could hit a blood vessel or cause damage to a nerve.
As they are holding onto the tongue, the piercer will stick a thick needle through your tongue without using any anesthetic.  (See a picture of this here – not for the faint of heart!)  Some people say this hurts, others say that as long as you find the right person to pierce your tongue, it shouldn't hurt.  Since piercers are not licensed medical professionals, they are not permitted to give you any anesthetic to numb your tongue and prevent you from feeling pain.
Then, the piercer will put a long barbell through the hole that was made in the tongue.  Usually the barbell is 18 millimeters (about ¾ inch) long.  The initial barbell needs to be long because your tongue will swell a lot after the piercing.  If a short barbell is used, the tongue could swell around it and trap the barbell inside the tongue.  If this occurs, surgery will be needed to remove the barbell from the tongue.
If your tongue piercing is done in a clean, sanitary environment and doesn't become infected., the initial 18 mm barbell can be replaced with a shorter barbell.
Conclusion
After your tongue has been pierced, you must leave the barbell in place or the hole can close up.  It can be removed for very brief periods of time without this occurring but there is always a risk.  It's a good idea to remove any tongue jewelry when you're playing sports so that you don't damage your teeth.
Do you have any stories or experiences with tongue piercing?  I'd love to hear about your stories, questions and comments in the comments section below!