Tooth Pain and Sinuses: Can A Sinus Infection Cause a Toothache?
This past weekend, my wife told me that she was having the worst toothache of her life. When she came in for her checkup a few months ago, her teeth were in great shape.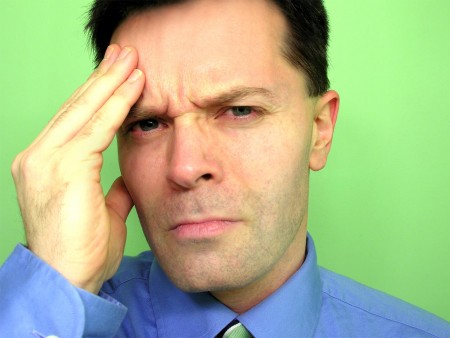 She told me that the pain was constant and that it got worse when she stood up. I told her that I thought it was a sinus infection. She went to the doctor and found out that she did have a sinus infection.
Stories like my wife's are fairly common — many people think that they have a problem with their teeth when they simply have sinusitis.
What Are Sinuses?
Each time you take a breath through your nose, air travels through your sinuses on its way down to your lungs.  Your sinuses are simply hollow, air-filled cavities in your upper jaw bone.  They are lined with a pink membrane that is similar to the pink lining on the inside of your mouth.
When the lining of your sinuses gets infected or inflamed, it is known as sinusitis.
Many people end up coming to the emergency room at our dental school with painful teeth.  Upon examination, we sometimes find that their teeth are healthy and that the real cause of their pain is a sinus infection or sinusitis.
How Your Sinuses Can Cause Tooth Pain
Below you'll find a dental x-ray.  I outlined the floor of the maxillary sinus (the sinus located above your upper teeth) so that you can see how close it comes to the roots of your upper molars.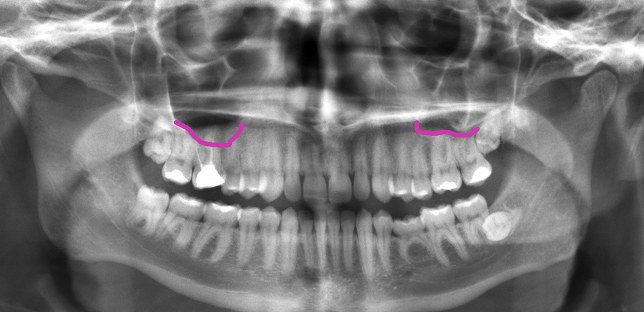 On the left side, it looks like the sinus floor goes below the roots of the upper molars.  Usually this isn't the case, and that illusion can be attributed to overlap as we are seeing a two dimensional image of a three dimensional object.  However, it does give you a pretty good idea of why sinus infections can make it seem like you have a toothache in your upper molars and premolars.
Want more details on how a tooth can cause a sinus infection? Then read this article: Can a Sinus Infection Be Caused by a Tooth?
How to Know If The Pain Is Coming From a Tooth or Your Sinuses
When a patient comes in with severe tooth pain, we normally take an x-ray of the offending tooth.  Tooth pain is usually caused by reversible and irreversible pulpitis.
We also do some tests on the tooth by feeling around it for an infection, tapping on it, and/or putting ice on it.  This allows us to better understand if the pain is coming from one tooth or not.
If the teeth don't have any cavities in them and appear to be healthy, then we usually try to find another source of the pain, such as a sinus infection (sinusitis).
Symptoms of a Maxillary Sinus Infection
Although there are other sinuses, the main pair of sinuses that affect your upper teeth are the maxillary sinuses.  One of the main symptoms of maxillary sinusitis is continuous pain in your back upper teeth that changes (gets worse or better) when you move your head (such as lying down or standing up.)
Treatment of Maxillary Sinusitis
Maxillary sinusitis can be treated in a variety of ways.  Here are some common treatments for maxillary sinusitis:
Using a humidifier to moisten the air that you breathe in.  This helps to loosen any dried secretions that have accumulated in the sinuses.
Using nasal spray that contains phenylephrine or ephedrine.
Taking decongestants orally such as Sudafed (psedoephedrine)
Taking antibiotics if it is believed that the sinusitis is caused by bacteria.  Common antibiotics that are prescribed for sinusitis include amoxicillin, trimethoprimsulfamethoxazole, clavulanate with amoxicillin, azithromycin, and cefuroxime.
Conclusion
Although toothaches are generally caused by a problem with your tooth, it is important to understand that your teeth have neighbors, such as your sinuses, that can mimic a toothache.
Do you have any questions about sinusitis or sinus infections?  I'd love to hear what you have to say in the comments section below.  I'll do my best to respond to your questions, comments, and/or concerns.  Thanks for reading!