Meth Mouth: The Effects of Methamphetamine On Your Teeth
Methamphetamine, like many other illicit drugs can harm your teeth fairly rapidly.  Back in September, I wrote an article entitled Seven Ways Crystal Methamphetamine Ruins Your Teeth. That article gave seven main ways that crystal meth damages your teeth.
This article, on the other hand, will show you in pictures exactly what methamphetamine can do to your teeth.
FYI, if you have a weak stomach, you may not want to look at the pictures as some may find the teeth a bit gross.
Meth Mouth: The Effects of Methamphetamine On Your Teeth
The picture below is of a patient that came to a dental school who was suspected of using methamphetamine.  All of the brown and dark brown on his teeth are cavities.  The methamphetamine has helped the bacteria in the mouth eat away at the teeth.
The photo below is a close-up view of the left side of the picture above.  You can clearly see that a lot of the tooth structure has been destroyed due to a simple methamphetamine addiction.
Not Just Your Teeth — Methamphetamine Affects Your Whole Body
In dental school, we are learning more about the mouth-body connection.  This article wouldn't be complete without showing that methamphetamine not only affects the teeth, but it affects the body in many ways.
The diagram below lists about three dozen ways that methamphetamine adversely affects your body, including high blood pressure, heart attack, and kidney damage.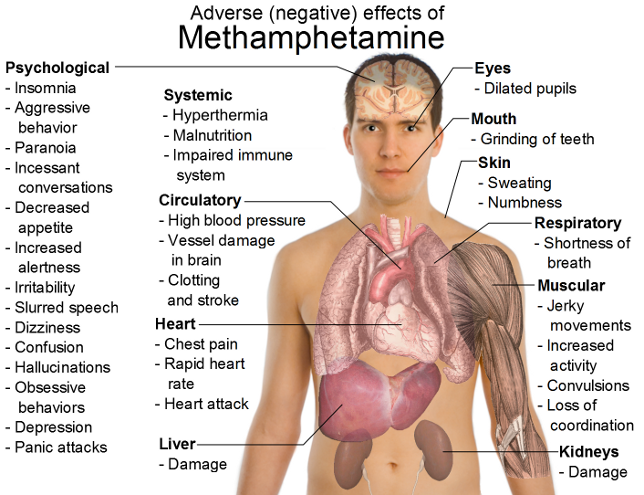 Conclusion
Methamphetamine can damage your teeth and create a condition commonly known as Meth Mouth.  Methamphetamine also can damage your whole body in a variety of ways.
Do you have any questions or comments on methamphetamine and dental health?  Leave them below in the comments section.  Thanks for reading!