How Long Does Teething Last?
If you've had a child, then you probably know how teething affects kids — and parents!
When it comes to teething, many parents want to know at what age teething starts and how long it will last.  While I can't give you an exact answer as to when your child will start teething and for how long, I can point out some general guidelines.
The Age When Babies Start Teething
The average baby's first tooth pokes through their gums right around the age of six to ten months.  Since all baby's get their first tooth at a different age, it may help to give a general outline of when to expect all 20 of your baby's teeth.  I mostly used the data from the ADA's Primary Tooth Eruption Chart (PDF) and have put the average age in months when each event occurs (shown in parentheses) below as well.
Around  4 to 10 months your baby will get their first teeth, the lower front two teeth, the lower central incisors.  (~8 months)
Two months later the two upper front teeth (central incisors) will come into your baby's mouth. (~10 months)
One month later, the upper lateral incisors will come in. (~11 months)
Two months later, the lower lateral incisors will come in. (~13 months)
Three months later, your baby's first molars will come in on the top and on the bottom. (~16 months)
Three months after that, your baby will get the upper canine teeth. (~19 months)
One month later, your baby will get the lower canine teeth. (20 months)
Seven months later, your baby will get their lower second molars. (27 months)
Two months later, your baby will complete their baby teeth by getting their upper second molars. (29 months)
As you can see, your baby will constantly be getting new teeth over the course of about two years.  It's important to understand that while your child will keep getting new teeth during this time, they won't be teething the entire time.  Teething refers to the process by which a tooth erupts through the gums into the mouth.  This process can include some pain and discomfort, usually during the period of time before you actually see the tooth emerge from the gum.
Now that you know when to expect all 20 of your baby's teeth, let's discuss teething in greater detail.
How Long Does Teething Last?
In the late 1990's, a survey was sent out to many parents asking them about various aspects of their children's teething habits.  One question that I noticed in particular asked the parents how long their babies had teething symptoms for each tooth that came into their mouth.  Aside from a few parents that said their children didn't experience any teething symptoms (I wish I could say that!), here's what the rest had to say about how long teething lasted for their kids: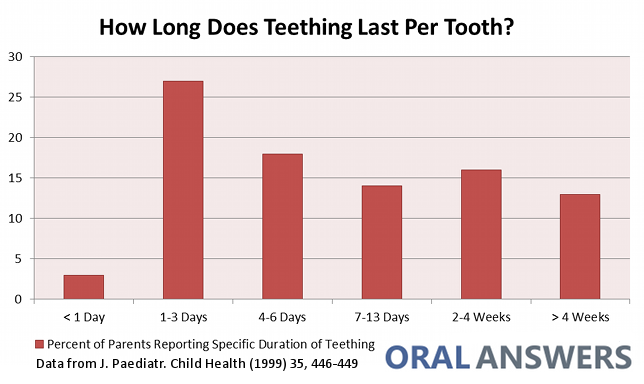 As you can see, the results are all over the place.
If you do a quick search on the internet, you come up with many interesting stories, some of which claim that teething takes over 6 months!  Take a quick look at the following comment that user chrellis_26 said on the BabyCenter website:
"My son started the teething process at about three and a half months, he was ten months old when he finally got one tooth. Lately, now at fifteen months, it can take days or weeks of irritable behavior before a tooth comes in."
I think the reason that there are so many differing opinions on this issue is because many people attribute fevers and other unexplained irritable behavior to teething.  For example, some people believe that teething can cause a high fever and diarrhea – both of which are teething myths (stay tuned for a teething myths article in the future!)
The real process of teething can cause some inflammation in the gum tissue as the tooth pokes through.  Personally, I believe that teething would normally last from about 1-7 days per tooth.  Several months of teething pain seems a bit far-fetched.  The only authoritative quote I could find on this subject comes from the book Paediatric Dentistry, edited by Richard Welbury.  It states:
"Inflammation of the gingival tissues before complete emergence of the crown may cause a temporary painful condition that subsides within a few days."
Sometimes babies can get multiple teeth at the same time, so it may seem like teething is taking forever, especially when you're waking up at all hours of the night to comfort your little bundle of teething joy.
Conclusion
To sum it up, teething will be occurring over and over from a week or so before your baby gets their first tooth and until a week or so before your child gets their last baby tooth — right around the age of 2 ½.
Do you have any questions about teething or any experiences to share?  I'd love to hear about them in the comments section below.  Thanks for reading!