Colored Braces: What Colors of Braces Can You Get?
Not too long ago, I spent a week of my dental school career in the orthodontics department, helping the future orthodontists to straighten people's teeth.
A lot of the teenagers' favorite part of their appointment was at the very end when they got to choose what color their braces would be for the few weeks until their next appointment.
One dedicated high school football player wanted the colors of his school — they had lost their last game, and he was hoping that his braces would bring his team a much-wanted victory.
It was interesting to look at the psychology behind the color choices.  Everybody that told me what color they wanted felt like they had to justify their color choice.  Some people chose their favorite color or just a color to match their mood.
If you're wondering why people with braces need those colored bands in the first place, read my previous article about why you have to have rubber bands on each tooth with braces.
The Available Colors of Bands on Braces
At my dental school, we use the 3M Unitek Alastik brand of braces bands.
This brand comes with a variety of colors which are pictured below: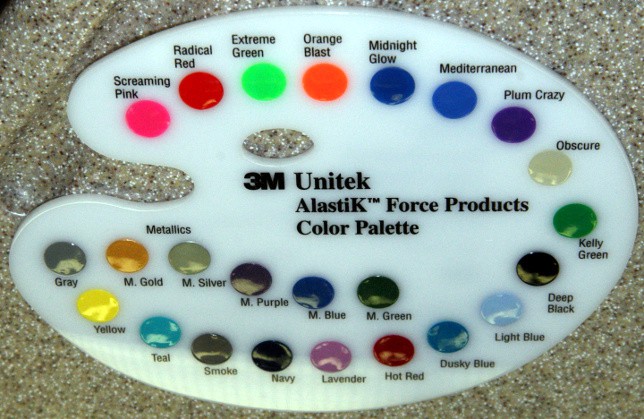 3M is a pretty popular brand among orthodontists.  If your orthodontist uses another brand and you want to know which colors are available for your braces, just ask.  Most orthodontists want to keep their patients happy and are willing to show you all of the available color options.
Read the article 60 Photos of Teenagers with Braces to see what people look like with different colors of braces.
Not Everyone Can Get Colored Braces
As I mentioned in my previous article about the colored bands on braces, there are a couple of different types of braces.  One type has a metal door that locks in the orthodontic wire, known as self-ligating braces, and the other type holds the wire in with a tiny, colored rubber band.
If you have the self-ligating variety of braces, you won't be able to choose a color as the braces automatically hold in the wire.
What Do You Think of Colored Braces?
When I had my braces, I had the self-ligating type, so I never got to choose a color to spruce up the look of my braces.
Do you find colored braces distracting or do you like them?  If you have braces, what makes you decide what color to choose?  Leave your opinions below in the comments section!