When Your Baby Is Born With Teeth: Natal Teeth
Many hundreds of years ago, babies that were born with teeth would be tragically put to death because they were thought to be demons.
Fortunately, that doesn't occur today.  In fact, parents may be happy to find that their child is born with some teeth because it means that their baby has to experience teething for two less teeth.  Although the mother may not be too happy to have to breastfeed a baby that already hast teeth!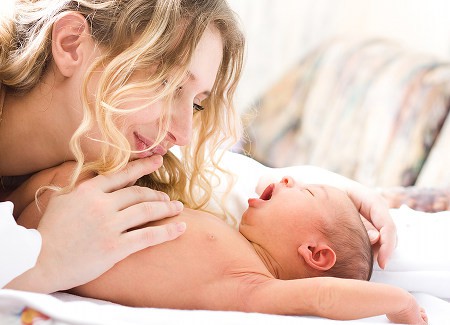 Teeth that are present in a newborn's mouth are called natal teeth.  Neonatal teeth, on the other hand, are teeth that come into your baby's mouth in the first 30 days of life.  Sometimes natal teeth can be supernumerary, or extra teeth, but most of the time they are just regular baby teeth that have come in six months early.
What Causes Natal Teeth?
While the exact cause is not known, it is believed that the tooth simply develops in an abnormal position that is much closer to the surface of the gums.
A recent paper, a review of natal teeth says, "The exact [cause of natal teeth] is not known. Infection, febrile states, trauma, malnutrition, superficial position of the tooth germ, hormonal stimulation and maternal exposure to environmental toxins have been implicated as causative factors."
How Common are Natal Teeth?
I looked at a variety of sources while researching before writing this article.  Some sources say that natal teeth occur in 1 in 6,000 births.  Other sources stated that the number was around 1 in 2,700.  All of those statistics simply came from reports that existed regarding births. However, when a group of researchers actually looked at 7,155 infants looking specifically for natal teeth, they found that 10 of them had natal teeth.  That gives us a prevalence of 1 in 716 births.
The real number is probably somewhere in the range of those three statistics.
2% of infants with unilateral cleft lip and palate are born with natal teeth and 10% of infants with bilateral cleft lip and palate have natal teeth.   Natal teeth are more common in females and children of certain American Indian tribes.
Certain cysts that form on the gums of babies, such as gingival cysts of the newborn and Bohn's nodules may look similar to natal teeth, but it is important to know that unless the white thing your seeing is as hard as a tooth, it's probably not a tooth.
Where Do Natal Teeth Occur?
85% of all natal teeth are lower central incisors, 11% are upper incisors, 3% are lower canines and molars, while 1% of natal teeth are upper canines and molars.
What Should You Do If Your Baby Is Born With Teeth?
Many parents are surprised to find that their baby already has teeth and wonder if they need to do anything.
Many times, parents don't need to do anything.  They can simply relish the fact that they don't have to go through the teething process for the natal teeth!
It's not all roses though,there are a few different problems that can occur as a result of natal teeth.  I've listed them below with an explanation of what to do about them.
1 – Natal Teeth Can Cause Problems with Breastfeeding
Breastfeeding may be difficult and you may have to pump or mix formula and give it to your baby in a bottle.
McDonald & Avery's Pediatric Dentistry textbook states, "A retained natal or neonatal tooth may cause difficulty for a mother who wishes to breast-feed her infant. If breast-feeding is too painful for the mother initially, the use of a breast pump and bottling of the milk are recommended. However, the infant may be conditioned not to "bite" during suckling in a relatively short time if the mother persists with breast-feeding. It seems that the infant senses the mother's discomfort and learns to avoid causing it."
2 – Natal Teeth Can Cause Ulcers on the Underside of the Tongue
Sometimes the natal tooth will be sharp and can cause an ulcer to form on the underside of the tongue.  This problem is known as Riga-Fede Syndrome.  In this case, the dentist can smooth off the sharp edge of the natal tooth or add a small amount of white filling material to smooth out the tooth.  Once the sharp edge of the tooth is gone, the ulcer usually resolves.
3 – Natal Teeth May Pose a Choking Hazard
While many natal teeth are fixed firmly into the jawbone, sometimes natal teeth are very loose.  In cases where natal teeth are very loose, some sources say that it is a good idea to have the natal teeth extracted.  Other sources say that there are no documented cases of a child choking on a natal tooth and that extracting it can be an emotionally difficult procedure for the parents.
I think that the most important thing to find out here is whether or not the natal tooth or teeth are extra teeth.  Dr. Pinkham's pediatric dentistry textbook says that all extra (supernumerary) natal teeth should be extracted, while regular baby teeth that are natal teeth should be evaluated to see if they pose a choking hazard to the infant.
Conclusion
Natal teeth may occur more often than once per every thousand births.  They may not cause any problems, but they can cause ulcers on the infant's tongue and problems with breastfeeding.  They can cause difficulty if they are loose as they may pose a choking hazard for the baby.
Do you have any questions about what to do when your baby is born with teeth?  Did your child have natal teeth?  Please share your comments, experiences, and questions in the comments section below.  Thanks for reading!