Antibiotics Before Dental Work for Joint Replacements
Last year I wrote an article about dental antibiotic prophylaxis, which talked about why dentists prescribe antibiotics for their patients to take before many dental procedures.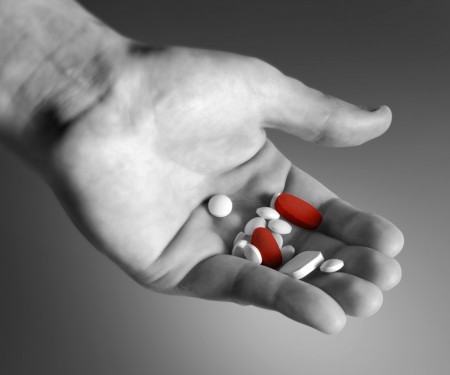 In that post I mentioned that anybody who has a joint replacement is supposed to get antibiotics prescribed to them before certain dental procedures.  The reason for this is that there are millions of bacteria in our mouth that may enter our bloodstream during certain dental procedures.  When an artifical joint gets infected, it normally is considered a failure.
Since antibiotics are very cheap and they can help prevent the infection of an artificial joint, it seems like a no-brainer to give antibiotics to patients before invasive dental procedures so that the catastrophic loss of an artificial joint can be avoided.
However, there really isn't conclusive evidence that antibiotics prevent joint infections in the average healthy person.  That is why, in the American Dental Association's original 1997 guidelines on dental antibiotic prophylaxis for joint replacements, and in the 2003 guidelines, the ADA stated, "Antibiotic prophylaxis is not routinely indicated for most dental patients with total joint replacements."
However, a few years later, the ADA reversed its position and stated that everyone who had an artificial joint replacement needed to take antibiotics before invasive dental procedures regardless of whether or not that person was even at a high risk for developing an infection.  Those were the current guidelines when I wrote my post on dental antibiotic prophylaxis last year.  However, I also mentioned that the ADA was looking into the issue and would likely issue some new guidelines this year.
New Dental Antibiotic Prophylaxis Recommendations for Patients With Total Joint Replacements
The ADA has since turned away from its aggressive approach of recommending that everyone with a total joint replacement get antibiotics before invasive dental work.
Last year I mentioned that the ADA had formed a task force to research the literature and form new guidelines on the decision of how to give antibiotic prophylaxis to patients who had undergone total joint replacement.  The ADA has since removed the recommendation from their website that all patients with joint replacements be premedicated with antibiotics before dental work.  They have now posted the following recommendation (I bolded the main points):
"The American Dental Association and the American Academy of Orthopedic Surgeons (AAOS) are currently in the process of developing evidence-based clinical guidelines on the topic of antibiotic prophylaxis for patients with orthopedic implants undergoing dental procedures. The ADA and AAOS do not have a joint recommendation at this time. There are differing opinions on the need for antibiotic prophylaxis. These opinions/statements are presented below to assist the dentist in making informed decisions about the prescription of antibiotics. The ADA believes that the professional goal should be consensus among the dentist and physician, which is the expressed goal being pursued in the ongoing ADA/AAOS project."
Basically, the ADA is stating that the dentist and physician should weigh the benefits/risks to each patient and then assess how likely it is that a given patient would develop an infection in an artificial joint.  If they determine that the risk is high enough, then antibiotics should be given before invasive dental procedures.  If the risk of infection to the joint replacement is extremely low, then antibiotics before dental work probably are not needed.
Antibiotics Are No Longer Necessary for All Patients with Joint Replacements Before Dental Work
Basically, the new guidelines (or lack of guidelines) mean that not all patients with artificial joint replacements need to get premedicated with antibiotics before invasive dental work.
I think that this is a good thing.  Many times dentists had to premedicate patients when there was hardly any risk at all of infection.  In very healthy patients, this meant that dentists were prescribing tons of unnecessary antibiotics.
I do think that many dentists and physicians will continue to prescribe antibiotics because it is the "safe" thing to do legally.  Even though lots of antibiotics may not be in the patients best interest, it is the best way for physicians and dentist to cover themselves legally.  For example, a dentist might end up in court for failing to prescribe antibiotics when it was probably needed, but a dentist would likely never end up in court for unnecessarily prescribing excessive antibiotics to patients.
What Do You Think?
Do you have a joint replacement?  Do you think that antibiotics are really necessary before invasive dental work?  Do you have any questions or concerns about taking antibiotics before dental work?  I'd love to hear what you have to say in the comments section below.  Thanks for reading!